Now you can have your own website that you can manage right through CAR_PRO! All at the click of a button from within the program you can upload your inventory with pictures to your own web based store front!

Check out some of the website features…
No Internet knowledge required! Now anyone can have a professional automotive website.
At the click of a button CAR_PRO© can transfer your inventory with photos directly to your website.
The website will automatically delete the photos and inventory records for delivered units. So you don't have to manage it.
You can dynamically change most of the website content yourself which keeps the monthly maintenance fee very low.
Fast and easy setup with no additional tools required. This is a turn-key website which can be up & running in minutes.
Expose your dealership and inventory to everyone on the Internet! This website will pay for itself many times over.
The websites are all designed and maintained by us so support is the same quality service that you get now with CAR_PRO©
Each website includes the following pages: Home page, Vehicle Inventory, Vehicle Search, Vehicle Locator, Loan Calculator, Loan Application, Directions, and a Contact Us page.
Your website will automatically email quality leads to you from customers who visit your site.
Call us today and have your own web based store front up and running by tomorrow!

Click Here to check out some of our sample sites!!!

The "My Website" screen provides you with all the tools necessary to maintain your integrated website. It consists of 5 tabs, the first of which, is the "General" tab. Here you can configure the connection to your site and specify the contact info that will be displayed there.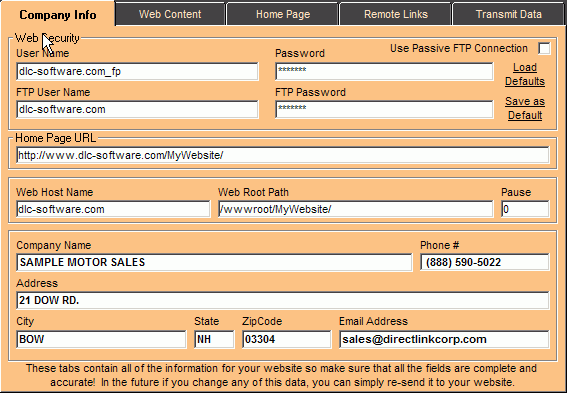 On the "Web Content" tab you can change the Home page paragraph, store directions and up to eight marquee items that will scroll at the bottom of your site.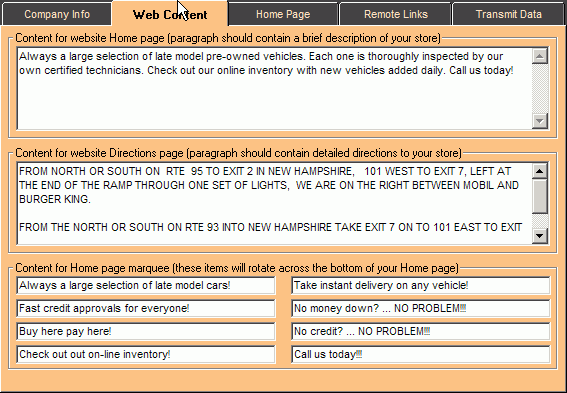 On the "Home Page" tab you can browse to the photos that will be displayed on the main page of your site.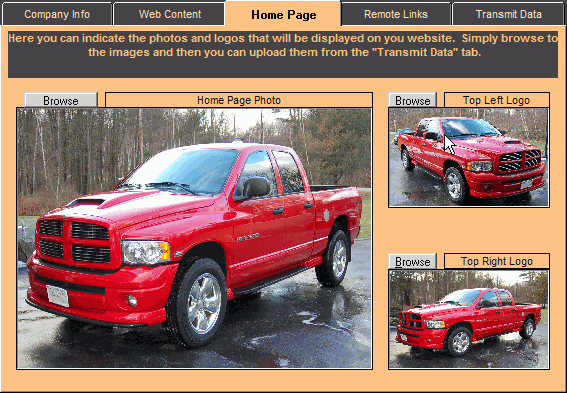 On the "Remote Links" tab you can setup links to other websites, if you so desire.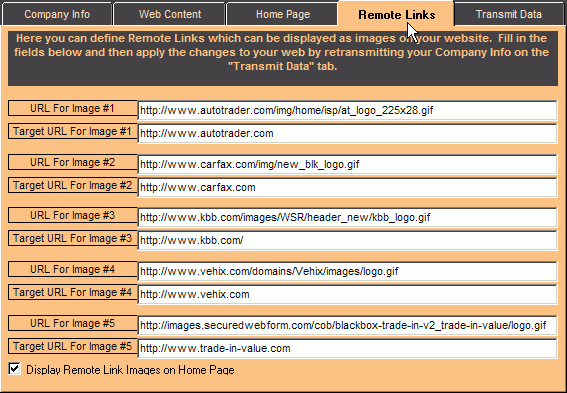 The "Transmit Data" tab is where you go to transmit your inventory and photos to your site. You can also transmit changes made on all the other tabs as well.